S
o, yesterday, I had a surgical procedure done and am rather sore. There's not much I can do around the house as far as lifting goes, so I'm sitting here at the computer catching up on e-mails and things while my kids do their independent work. As I started going through the e-mails, I noticed another blogger I follow was nominated in the Homeschool Blog Awards.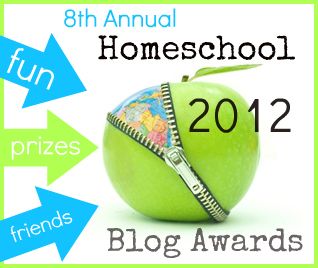 S
o, I clicked on the link to go vote for her page, as well as several others that I follow. As I browsed through all the other categories and nominations, I came across a very familiar one -
SONset ACADEMY!
Wow, how exciting to be nominated; and not only in one category, but in THREE:
Best Homeschool Mom Blog
Best Crafts, Plans and Projects Blog
Best Encourager
Whoever nominated me, THANKYOU! I am thrilled.
If you have not voted yet for your favorite blogs, you can click on the link below to get started! Polls close on November 16th.